Mr Brown joined the school as Head of Music in September 2017 having spent ten years teaching in Norfolk.  He is an organist, choral singer and recent learner of trombone and tuba and is a qualified coach driver.
Miss Johnston joined the school in 2001 and teaches KS3 music. She is a flautist, clarinettist, pianist and singer and enjoys sailing.
There are also 8 peripatetic music teachers, both private and from the Oxfordshire County Music Service.  They cover the following instruments:  Piano, Singing, Guitar, Trumpet, French Horn, Trombone, Baritone, Tuba, Flute, Clarinet, Oboe, Saxophone, Bassoon, Violin, Viola, Cello, Double Bass and Drum kit/percussion.
For more information about learning an instrument at Chipping Norton School, please contact The Music Department.
The Music Department has one large teaching room (H2), which is also used for ensemble rehearsals.  The second teaching room (H1) is equipped with 10 new computer workstations equipped with Noteflight, especially useful to GCSE and A level students.  There are 6 practice rooms, each with a piano and music stands.  These are used by our team of peripatetic teachers, and for students completing group work activities during lessons.
Key Stage 3
During KS3, all students complete work in performing, composing and appraising.  These skills are developed and spread across many different styles and genres.
Year 7
Term 1 – Notation and keyboard skills
Term 2 – Danse Macabre and Performance skills
Term 3 – Advanced performance and The elements of music
Term 4 – Composition, form and structure
Term 5 – Instruments of the orchestra
Term 6  – Programme Music and extended performance skills
Year 8
Term 1 – Chords and Harmony, performance and composition
Term 2 – Carnival of the Animals, listening and composition
Term 3 – Periods of Music 1450-1900 composition and performance
Term 4 – African Drumming and performance 
Term 5 – Composition techniques and performance
Term 6 – Periods of Music 1901-present, and composition

Year 9                                              
Term 1 – The Planets, listening and composition
Term 2 – Jazz and Blues, performance and listening                                
Term 3 – Music for stage and screen, and performance
Term 4 – Structure and Form, with composition
Term 5 – General listening skills, extended musical writing
Key Stage 4 
As of September 2022, Chipping Norton School students take the EDUQAS examination for GCSE Music. This course aims to:
to enable students to engage actively in the process of music study, by developing performing skills individually and in groups to communicate musically with fluency.

to broaden students' musical experience and interests, develop imagination and foster creativity.
to recognise contrasting genres, styles and traditions of music, and develop some awareness of musical chronology.
to engage with and appreciate the diverse heritage of music, in order to promote personal, social, intellectual and cultural development.
to develop broader life skills and attributes, including critical and creative thinking, aesthetic sensitivity, emotional awareness, cultural understanding, self-discipline, self-confidence and self-motivation.
Examination Board: EDUQAS
Component 1 – Performance 30% (internally marked and externally moderated)
A minimum of two pieces, lasting a total of 4 minutes, recorded in the year of assessment:
One piece must be an ensemble lasting at least one minute
One piece linked to an Area of Study
Grade 3 is standard level
Component 2 – Composing 30% (internally marked and externally moderated)
Two compositions
One composition written to a brief set by the board
One free composition
Notated scores or written commentaries for both compositions/arrangements
Component 3 – Appraising 40% (externally marked)
Listening examination, taken at the end of year 11.
8 questions, 2 on each area of study.
AoS 1 Musical Forms and Devices (including a set work)
AoS 2 Music for Ensemble
AoS 3 Film Music
AoS 4 Popular Music (including a set work)
Key Stage 5 (A level)
At Chipping Norton School students take the EDUQAS examination for A level Music. This course aims to provide a broad musical experience, and develop aural awareness, composition and performance skills.
There are three main components in the A level course, Performing, Composing and Listening and Appraising, some of which can be weighted differently.
Performance – Either 35% (Option A) or 25% (Option B)
This is a recital of pieces performed to a visiting external examiner in the second year of the course. Pieces need to be of at least grade 6, with scores for the examiner to follow. Timings are between 6-8 minutes for Option B, and 10-12 minutes for Option A.
Composition – Either 25% (Option A) or 35% (Option B)
This is creating and developing music, some of which follow a brief set by the exam board. There are three pieces to compose for Option B (8-10 minutes), or two for Option A (4-6 minutes).
Listening and Appraising – 40%
Students study pieces from three Areas of Study. The exam is 2 hours and 15 minutes, and divided into 3 parts. Area A is two Symphonies by Hadyn and Mendelssohn. Area C (from a choice of B,C,D) is Musical Theatre and a focus on six composers (Rodgers, Bernstein, Sondheim, Schonberg, Lloyd-Webber and Schwartz). Area E (from a choice of E or F) is Music of the 20th Century, including pieces by Debussy and Poulenc. These pieces are analysed and used in the exam, both from an aural and written perspective.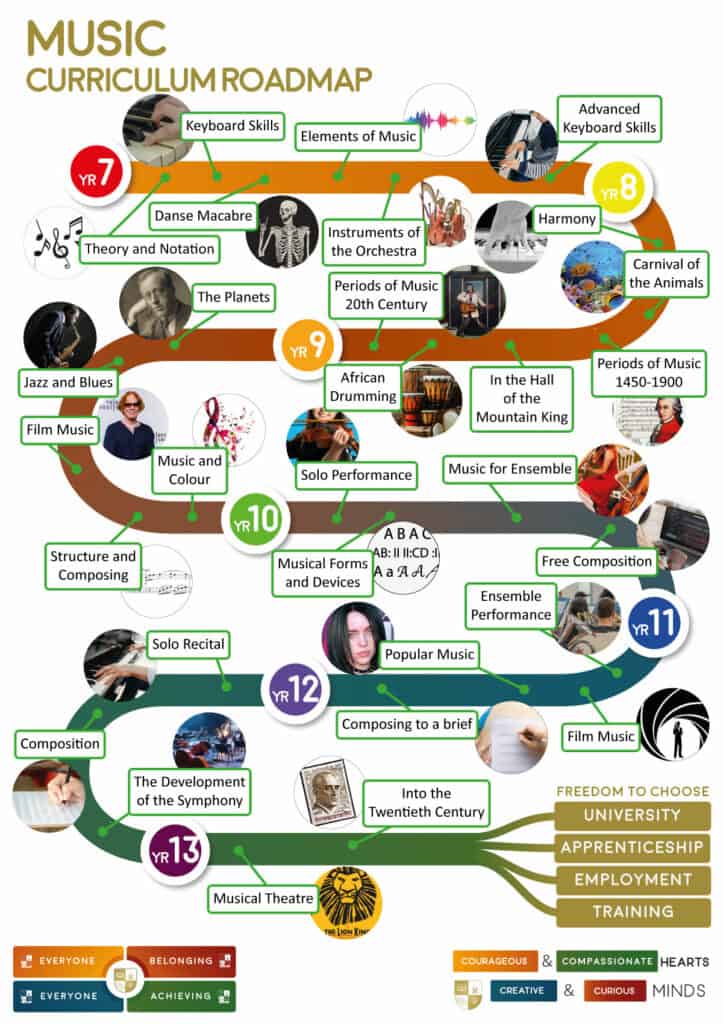 Click the image for a PDF
The Music Department is often busy with rehearsals at lunch and after school.  
Monday Lunch – H2 – 1:40-2:10pm
Folk and Acoustic Music Club
Tuesday Lunch – H2 – 1:40-2:10pm
Choir (All year groups)
Wednesday Lunch – H2 – 1:40-2:10pm
Concert Band
Thursday Lunch – H2 – 1:40-2:10pm
Brass Ensemble
Friday Lunch – H2 – 1:40-2:10pm
Flute Ensemble
Monday and Friday Lunch – H2 – 1:40-2:10pm
GCSE/A level catch-up and rehearsals
Music Production – The Addams Family
Monday, Tuesday and Thursday – 3:30-5pm
Shows – 7th, 8th, 9th December, 7pm in the School Hall