Careers Lead at CNS is Mr Parker.
Direct Telephone No: 01608 642107
Email: [email protected]
CNS also employs the services of a Careers Adviser Mrs Knowles.
Direct Telephone No: 01608 642107
Email: [email protected]
The Careers Office is based in D2, students can drop in during break and lunch time or book an appointment by using the noticeboard on the door of D2.
Parents and carers are always welcome to contact the Careers Lead, Mr Parker to seek advice and ask any questions they might have regarding careers pathways.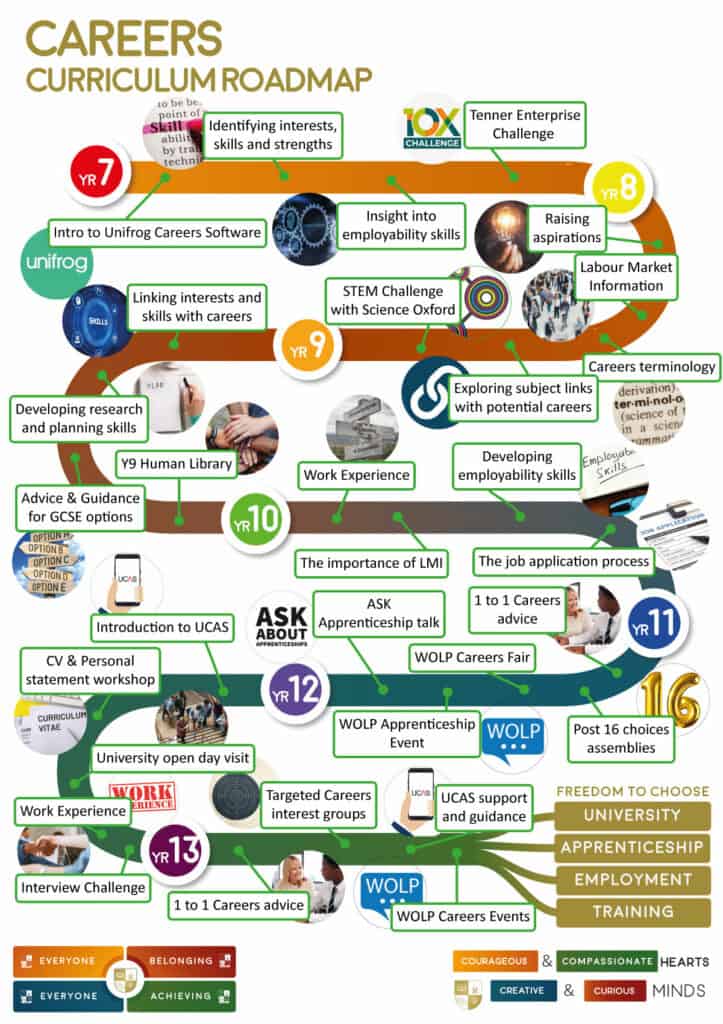 Click the image for a PDF
Work Experience
Y10
The dates for work experience for Year 10 for the academic year 2019 – 20 are 29th June to the 3rd July 2020. We feel that this is a great opportunity for students to experience the world of work.
Mr Parker the school's Careers Lead and Work Experience coordinator is available to help students identity the type of placement they would like to undertake and can also give advice on potential companies that students could apply to.
Chipping Norton School also subscribes to the Oxfordshire Local Enterprise Partnership (OxLEP) system where all student placements are checked to ensure safeguarding of students. Please be aware that the school pays a fee to OxLEP to use a web-based tool for administration of work placements and the assessment of employer health & safety and insurance status.
OxLEP also provide the school with a database called Link 2, which students can access to search for placements in all fields. Each student will be issued with a personal login name and pin number when they have completed and returned the Initial Student Form.
Sixth Form
Employability or work-readiness is becoming more and more important to universities and employers.  While qualifications remain essential, with very few exceptions, they are no longer the only consideration.  By gaining work experience in relevant sectors students can gain a real advantage when applying for university or work. 
In the Sixth Form students are expected to do a work placement during any of their holidays. Students taking personal responsibility for finding the placement and researching their further education and career path is an important part of the process. 
Mr. Parker is available to assist Sixth Form students in identifying and applying to work experience placements.
Careers Events
West Oxfordshire Learning Partnership (WOLP) Introduction to Apprenticeships Event at Witney Lakes on 22nd October 2019 5pm – 8pm. Visit a variety of trade stands and talk to employers and training providers offering advice and guidance on the apprenticeship route.
WorldSkills UK Live at the NEC Birmingham 21st – 23rd November 2019
WOLP Careers Convention at Witney College Wednesday 29th January 2020 4pm – 8pm. Combined Schools Careers convention for students and parents to explore a wide range of career opportunities with local businesses.
WOLP Apprenticeship Recruitment Fair at The Marlborough School Woodstock Thursday 26th March 2020 6pm – 8pm. Meet with employers to explore current apprenticeship opportunities from a vast range of industries.
Apprenticeship Opportunities
Information to follow
Employment Opportunities
Information to follow
Useful Resources
Information to follow
Careers Information Online
Information to follow