At Chipping Norton School, Geography develops students' knowledge and understanding of the natural and human environment. The subject gives the opportunity to travel the world via the classroom. The topics covered allow interactions between the human and natural world to be investigated, key opportunities and challenges faced in the world to be explored, an understanding of how Geography impacts students' lives every day to be developed, and perceptions about the world to be challenged. Geography is a popular subject, with good uptake and results at both GCSE and A Level.
Mrs Jones BA (Geography and German Studies) is Head of Geography and joined Chipping Norton School in 2021. She studied Geography at Lancaster University. Her interests include the interactions between the physical environment and human activities and how places have changed over time due to natural processes, as well as human decisions, movements and behaviours.
Mr Hood BSc (Geology) The University of Manchester, MSc Science Communication The University of Edinburgh, PGCE Ed Geography. Previously worked as a private examination tutor and at The Royal Observatory in Edinburgh delivering planetarium shows in schools. Joined as Geography teacher in September 2021 after working as an Associate teacher at CNS the previous year. Interested in the understanding of Earth as a connected system and the dynamic processes that define how we live today.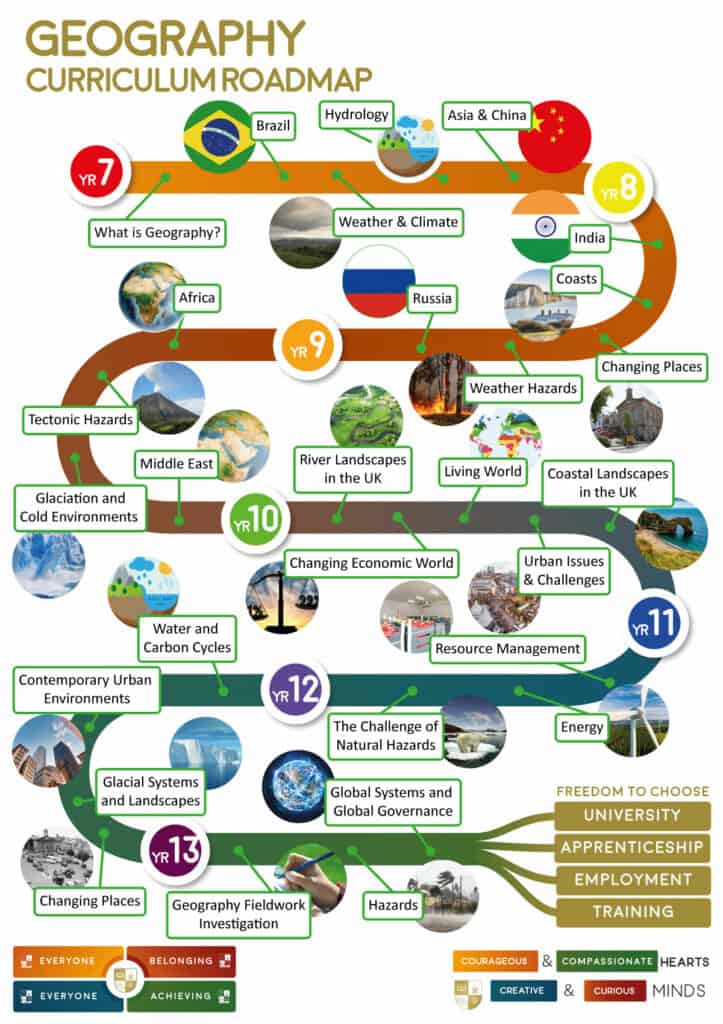 Click the image for a PDF
Key Stage 3
Through Key Stage 3 Geography, students will build on their knowledge and understanding of the UK and the world that they have developed at primary school. The curriculum includes some specific place focused topics on a variety of scales, where students will study Physical and Human Geography processes, characteristics and phenomen specific to that place/country/continent. These place focussed topics include: Brazil, China and India. In addition, students will also study Glaciation, Weather & Climate, Hazards, Changing Places and Extreme Environment. Across the three years, students will develop their geographical skills, such as graphical, reading, cartographical, numerical. Students will also develop connections, both through skills and content, to their other subjects.
Key Stage 4
GCSE Exam board – AQA
The Geography GCSE allows students to study the human and natural world with a balance between Human and Physical Geography. Students will explore case studies based in the UK, as well as examples from other Higher Income Countries (HICs), Newly Emerging Economies (NEEs) and Lower Income Countries (LICs). As well as learning about a variety of places, students will study topics including: hazards, climate change, coastal & fluvial landscapes, global ecosystems, global uneven development, urbanisation, global shifts in economic power and the challenge of sustainable resource use. Throughout their studies, students are encouraged to understand their role in society, by considering different viewpoints, values and attitudes.
The assessment is made up of three written papers:
Paper 1 – Living in the Physical Environment (Natural hazards – The living world – Physical landscapes of the UK) 1hr 30mins long and worth 35% of GCSE.
Paper 2 – Challenges in the Human Environment (Urban Issues and Challenges – The Changing Economic World – Challenge of Resource Management) 1hr 30mins long and 35% of GCSE.
Paper 3- Geographical applications (Issue Evaluation & Fieldwork) 1hr 15mins and worth 30% of GCSE. The Issue Evaluation section is centred about a pre-release material that is received approximately 12 weeks before the exam. The fieldwork includes trips to a physical and a human environment, where students collect & analyse data and before coming to a conclusion on a given geographical enquiry.
Geography GCSE Results 2018-2020
2020 results: 9-7 = 53%, 9-5 = 82% and 9-4 = 93%
2019 results: 9-7 =36%, 9-5 = 69% and 9-4 = 82%
2018 results: 9-7 = 50%, 9-5 = 74% and 9-4 = 88%
Key Stage 5
A-Level Exam board – AQA
The A Level encourages a more holistic approach to geographical concepts and processes by being able to recognise and analyse the complexity of people–environment interactions at all geographical scales, and appreciate how these underpin understanding of some of the key issues facing the world today. As well as applying geographical knowledge, understanding, skills and approaches in a rigorous way to a range of geographical questions and issues, including those identified in 4 days of fieldwork, recognising both the contributions and limitations of geography.
The assessment is made up of two written exam papers and a non-examined assessment (NEA). Both exam papers are 2 hours and 30 minutes long and are worth 40% each of the A-Level. The NEA is a 4,000 word independent investigation on a fieldwork enquiry chosen by the students, and must be based on a question or issue defined and developed by the student relating to any part of the specification content. The NEA is marked by teachers and is worth 20% of the A-Level.
Paper 1 topics – Water and Carbon Cycles, Glacial Landscapes and Hazards.
Paper 2 topics – Global systems and Global Governance, Changing Places and Contemporary Urban Environments. 
At Chipping Norton School, Geography teachers have seen students enjoying and succeeding in the subject from year 7 to sixth form. This has led to a continuous stream of students deciding to study Geography at university, including Russell Group universities. In the last five years students have studied Geography and other similar degrees at universities such as Nottingham, St Andrews, Manchester and Exeter University.