Here you will find all you need to know about sitting exams at Chipping Norton School.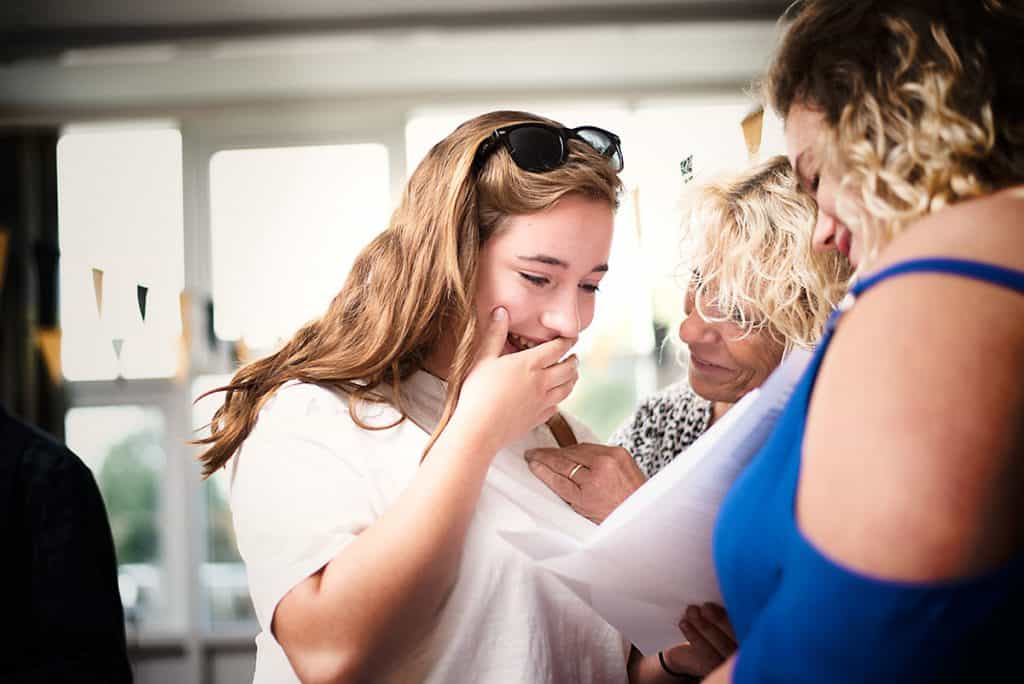 Mrs Lawson works in the curriculum office, located in the main reception area, and she is able offer advise on exams processes. She works with a team of trained invigilators ensuring the integrity and security of the exams, our main aim is making sure students know enough to protect their qualifications by following the regulations and thereby seeing a fruitful outcome to all their hard work.
Letter from Mr Doherty to GCSE students
Dear Students
I am delighted to be able to share your GCSE results with you today. These are a testament to your hard work and perseverance over many years.
I wanted to take the opportunity to explain how your results were determined this year. As you know, this year's GCSE results had to be awarded differently from usual, after exams were unable to go ahead due to Covid-19. Schools and colleges were asked to use their professional experience to make a fair and objective judgement of the grades they believed a student would have achieved had they sat their exams this year, and to submit these centre-assessed grades (CAGs) to the relevant exam board.
Groups of teachers and leaders in each subject worked together to discuss and recommend the CAG for each student. They took into account a wide range of available evidence, including class work, mock exams and other records of student performance. Mr Trainer and I then worked with those subject leaders to decide and submit the final CAGs to each examination board. As you would expect, we all undertook this exercise with great care and thought for you.
The intention was that the exam boards would then moderate the CAGs, to check that schools and colleges had approached this task consistently, before providing students with their final calculated grades. Unfortunately, as you will no doubt be aware, the method they used to do this proved problematic, and was likely to lead to many grades being downgraded unfairly.
The government therefore made the decision that GCSE and A level students would be awarded whichever was higher for each subject – their CAG or their calculated grade. This is what the grades you are receiving today are based on.
If you are unhappy with any of your results, I encourage you in the first instance to contact Mrs Lawson. She will be able to discuss your concerns, and advise you on any next steps. If you want to resit any of your exams, the current plan is for a full series of exams to take place in November. There are more details on this in the booklet provided.
I know that each student will have their own response to the grades they receive. I hope they will help you move in to the next phase of your life and that you know we shall continue to support you if your results lead to any confusion or uncertainty. Above all, I hope that you have reason to celebrate, smile and be relieved as well. One chapter ends as another begins.
Yours faithfully
Letter from Mrs Lawson about BTEC results
Dear Students
I hope you have had a good holiday, and received the results you needed to move onto the next stage of your education today.
I received notification late yesterday from BTEC regarding releasing results for BTEC Level 1 and 2, this includes BTEC Sport, Performing Arts (Dance) and Health and Social Care.
BTEC have asked schools and colleges to delay the release of these qualification grades to ensure you receive the correct result. They are conducting additional quality assurance checks on the externally assessed unit part of these awards.
You can find out more information on the BTEC website:
https://www.pearson.com/uk/about-us/news-and-policy/news/2020/08/update-on-btec-grading.html
I can only pass on their apologies for the delay in issuing your result today, and for the stress and inconvenience this will cause you.  We will issue your results as soon as we are able to.
Thank you for your patience and understanding with this, please do contact me if you have any questions.
Best wishes
Firstly CONGRATULATIONS on your results. We hope you have the grades you need to take you onto the next phase in your education or career and are pleased with your hard work. 
If you have collected, or will collect your results in person, you will have noticed there are no Heads of Department or Teaching Staff around to congratulate you. We had to ask them to stay away to ensure we could offer you the chance to come in and, if you need to, make appointments to see the people who can offer advice.
Every single member of the team wants us to pass on their congratulations and best wishes, wherever the next phase of your education or career may take you.
We hope these pages contain all the information you need to help you make decisions about your next steps. We have included information for students who have the grades they need to proceed to the next phase of their education or career, and those who feel that their grades do not reflect their ability and wish to sit exams in the Autumn. We have also included information to answer any questions regarding the processes for awarding this year, help with what to do next, or if you just need clarification on something.
We are still awaiting official guidance from Ofstead and the Exam Boards about the appeals process for mock exams and the 'triple lock' you may have read about in the media.  Please don't worry about the lack of information about this at the moment.
In order to keep everyone safe, Mrs Davison is going to book appointments with the team on results day, please email her [email protected]org  letting her know about your query and she will organise a time with the best person to help you.
We will be offering telephone appointments and (socially distanced) face to face appointments, you will be able to bring a parent or carer to your appointment if you would like to. We are sorry but this year you won't be able to just turn up and wait to see someone.
Finally, please send us your celebratory photos of today, either those you take at school, at home, or in your social bubbles – email Mrs Davison and she will add them to our school website.
Despite the strange circumstances this year, at Chipping Norton School we felt very strongly on two points:
Firstly that students should have the chance to collect results in person, if they wanted
to – we hope we've managed to add to the sense of occasion.
Secondly that key people should be on hand to offer support and advice, when needed, albeit in a socially distanced way.
Content of our exams results booklet 2020
In an attempt to prevent the spread of the coronavirus, this year's A – level and GCSE exam results have been calculated without students having sat exams. Instead, the marks have been calculated using Centre Assessment Grades (CAGs) and standardisation by exam boards.
Our exam centre, Chipping Norton School, like every other school's exam centre in the country, submitted two pieces of information for each exam you had been entered for; a centre assessment grade, and your rank order position within that grade.  The exam boards then used this and other information to produce results for students.
All this information was produced using Ofqual and JCQ guidance, you can read much more about how the processed worked on their websites by searching for 'Exam results 2020', but the info graphic below explains the process briefly.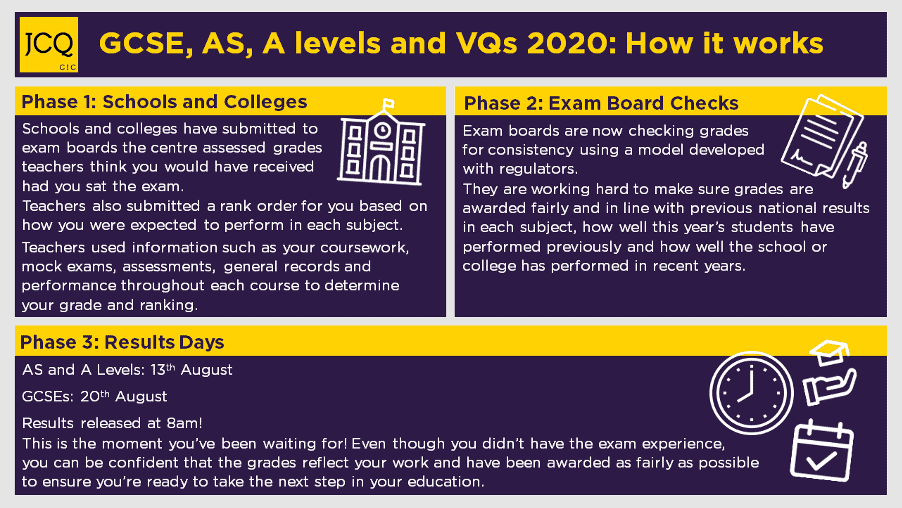 Next steps – decision making
We hope that every student is happy with the grade they have received, and believe that it is a fair reflection of their work, we recognise that this may not be the case for everyone and have enclosed more information to help.
The JCQ (Joint Council for Qualifications) have produced a decision tree, to help you decide your next steps.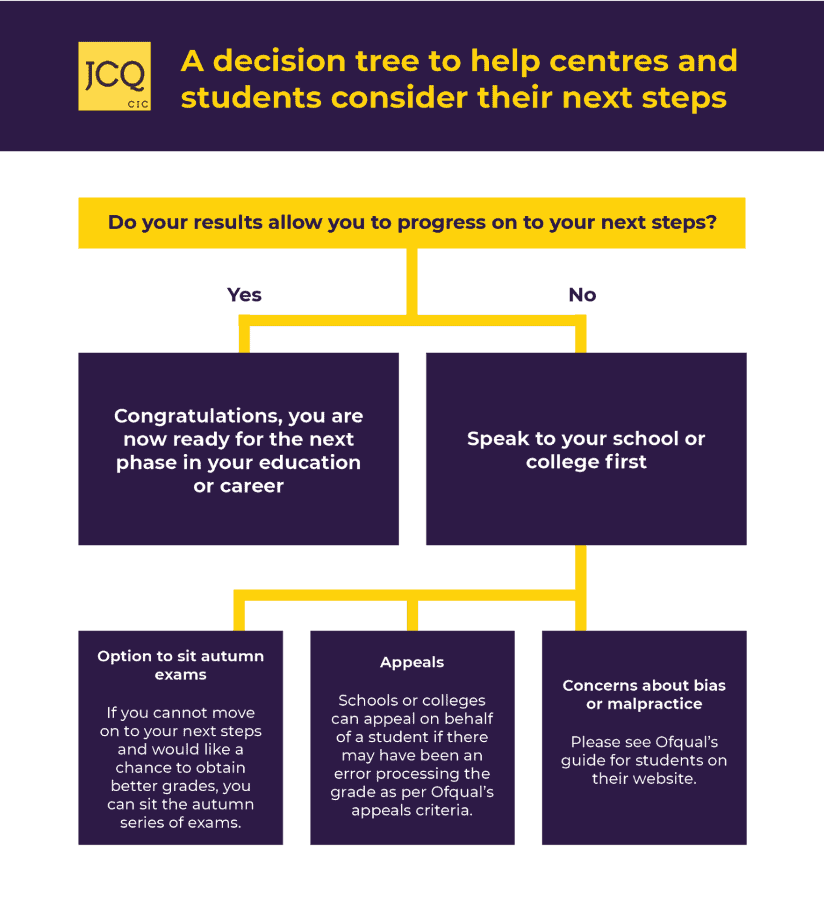 Students who have achieved their place at university
Congratulations!
If you have achieved better than expected results you may be eligible for UCAS Adjustment to secure a place at an alternative university.
LINK TO UCAS ADJUSTMENT SITE
https://www.ucas.com/ucas/undergraduate/apply-and-track/results/ucas-adjustment-if-youve-done-better-expected
Students who have not achieved a place at their chosen university
LINK TO UCAS Clearing and Clearing Plus guides
https://www.ucas.com/clearing-launch
Students who wish to make a late application to university in light of their results
LINK TO UCAS CLEARING SITE
https://www.ucas.com/clearing-launch
Students wanting advice on alternative Post-18 pathways, apprenticeship and employment
Email Mrs Davison for an appointment with Mrs De Bruyn or Mrs Davison.   The appointments will be on results day between 9am – 3pm.
If you have any other concerns that are not in the above category, please email Mrs Davison who will arrange for the best person to contact you.
Students and their parents who would like advice about the appeals process
Email Mrs Davison to book an appointment with Mrs Lawson.
Students who have achieved the entry requirements for their 6th form options
Complete the online application form on the school website by Tuesday 25 August.
Students who wish to change one or more of their A level options and meet the subject specific entry requirements
Complete the online application form on the school website by Tuesday 25 August and complete the Bridging work for your new subject choices, this is available on the school website.
Students who have not met subject entry requirements
Email Mrs Davison to book an appointment for to discuss your options with Mrs De Bruyn, Mr Ward or Mr Parker.  The appointments will be on results day between 9am – 3pm and the following day.
Students who have not met the general sixth form entry requirements or wish to ask advice about other sixth form college options or apprenticeships
Email Mrs Davison to book an appointment to discuss your options with Mr Parker.
Students and their parents who would like advice about the appeals process
Email Mrs Davison to book an appointment with Mrs Lawson.
If you can't carry on with the next phase
What can students do if they are unhappy with their grade?
Students will have an opportunity to resit their GCSEs in the autumn series in November 2020.
Exams will take place between Monday 2 November and Monday 23 November, more information can be found on the JCQ website.
The deadline for A level entries is 4 September 2020.
The deadline for GCSE entries is 18 September 2020 except for GCSE English Language and mathematics, the deadline for these exams in 4 October. 
All subjects will be available for students to resit, there will be no non exam assessments with the exception of Art.
It is also possible to make an appeal this year
If you believe an error has been made in the calculation of your grade you can appeal, you cannot appeal the grade itself, although if an error is found, this may subsequently change your grade.  The JCQ info-graphic below explains the process.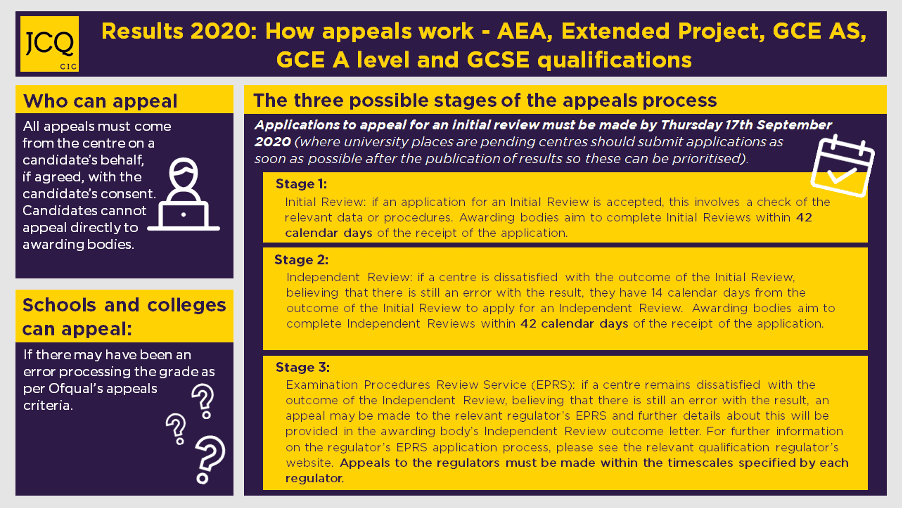 How to appeal if you have concerns about your qualification grade
Step 1: Discuss this with your parents or carers. Compare your final grade with the grade you were expecting based on mock exams, other teacher assessments or reports.
Step 2: If you have a query about a particular grade then you can ask us to check if the grade you were awarded matches the grade submitted by the school (the centre assessed grade). Please submit all such queries to Mrs Lawson on [email protected] in the coming days.
Step 3: If you believe that there are grounds to appeal one or more of your awarded grades then you should write to the school, FAO Mr Doherty, Headteacher.
Please use the form attached.
Your submission must set out the basis for your appeal and your grounds for believing why the grade is incorrect or unfair.  You should include evidence of your mock exams and teacher assessments if you can.  More information about this appeals process is available from Mrs Lawson.
For the Complaints and Appeals procedures Summer 2020 Click Here
Link to this Ofqual guide: Click Here
What can students do if they are unhappy with their grade?
Students will have an opportunity to resit their GCSEs in the autumn series in November
2020.
All subjects will be available for students to resit. Exams are to be in traditional written
format with the exception of Art.
Key Dates
The timetable will run as follows:
GCE AS and A-level examinations - Monday 5 October to Friday 23 October.
GCSE examinations Monday 2 November to Monday 23 November.
The deadlines for entry are:
(GCE AS & A-level) – 4 September
GCSE (except English Language and Mathematics) – 18 September
GCSE (English Language and Mathematics) – 4 October.
The exam boards will post the timetables on their websites and contact centres about
entries in due course.
Autumn Exams Information
All exams timetabled for Summer 2020 will be available, there will be no non-exam
assessment with the exception of art.
If you would like to resit an exam, it is your responsibility to arrange to see Mrs Lawson prior
to the deadline for entry.
Some exams may not be held at Chipping Norton School, they may be held at another
school locally.
If you ask us to enter you for an exam in the Autumn and then change your mind, or fail to
turn up at the Exam Centre we will charge you the cost of un-refunded fees.
To download the exam entry form 2020 Click Here
What if it isn't possible to sit your resit exams due to school
closures or lockdown restrictions?
If we have another situation where schools are closed to prevent the spread of coronavirus,
then we will be instructed about alternative arrangements by Ofqual.
Ofqual have said that there will be plans in place, in case this happens: "Our arrangements
for the GCSE, AS and A level autumn exam series assume that it will be possible for exams to
take place in the autumn. We are separately developing contingency arrangements should
this not be possible, either on a national or a local basis."
 
Will any students have to resit their GCSEs?
As in previous years, students who do not obtain grade 4 or above in English and/or
mathematics will also have to resit either in the autumn 2020 or summer 2021. You can do
this at our centre or, if you are going on to college, or to do an apprenticeship they will
make arrangements for you to resit.
 
Do schools share CAG and rank order with students?
We could not share CAG and/or rank order with students before exam results were released
on A level and GCSE results days as this was against the regulations.
As you have now been awarded your CAG we do not envisage any need to request these. If
you do feel you want to see your original CAGs though, please speak with Mrs Lawson.
Please think carefully about whether you want to see these before you request them.
What advice is there for students who aren't sure what to do next?
Mr Parker, Careers Lead, and Mrs Davison, Sixth Form Careers, will be available on results
days along with the year 13 and year 11 Head of Year and Pastoral teams. Students will
be able to get advice from school about what their alternative choices might be if their
grades mean they cannot progress to their chosen course.
Mrs Lawson will be available to help with exam information, entering for exams in the
Autumn and queries regarding appeals.
Support phone lines and email
The department for education have provided an exam results helpline.
Telephone 0800 100 900
nationalcareers.service.gov.uk
The Exam Results Helpline can provide information on appeals, complaints, or what a
student might be able to do next after they have received their results.
Students can also contact Ofqual by telephone on 0300 303 3344.
Students can call this number if they want to find out more about how you were graded,
the autumn exams series, how to make an appeal or raise a concern.
Looking after your Wellbeing
Whilst we hope you are happy with your achievements today, there are always times when
things don't work out, and sometimes when things have gone well, the relief can also feel overwhelming. On these occasions it can help to talk things through with someone you trust, a parent or carer, a teacher or friend.
We recognise this isn't always easy though, and the information below has been written by psychologists working with GCSE and A level students this year, to help them support their
own mental health during the recent times of uncertainty.
Develop a positive approach
Although we hope for the best, there are always times when things don't work out, when it
helps to have a positive approach:
it isn't 'the end of the world' if you don't do as well as you'd hoped. Disappointing news can feel like a setback, but there will be a new – and sometimes better - way forward. Your teachers are on hand to give you advice
take one step at a time. After results day, you don't need to plan the rest of your life.
Start by finding out who can help and then once you've got all the information you need, plan for next term or next year. Things will change – they always do – so sometimes it's actually good not to make long-term plans too definite, as that can
give you more to worry about
there are a lot of people in the same boat. During Covid-19 and lockdown, people have been reassured by things which connect them to others who are going through the same thing: for example, meeting friends on Zoom, checking in on social media, or going for socially distanced walks. People often feel reassured when they can talk to each other about their experiences and hear how other people are trying to find
ways to cope. In the same way, talking to others in your year group who are also
waiting for their results can be useful.
You're not alone, and if you need help to cope during this uncertain time, talk to your
friends, parents or carers, teachers or to a professional counsellor.
Childline – call 0800 1111
Mind – call 0300 123 3393
Samaritans – call 116 123 or email [email protected]
Or call NHS 111 or your GP – they can assist in providing the mental health support you may need